Regular price
$259.00 USD
Regular price
$259.00 USD
Sale price
$259.00 USD
Unit price
per
Sale
Sold out
CHAUSSURES ET TALONS VENDUS SEPAREMENT
Description
Ivy is the shoe that most of you choose when you begin your TANYA HEATH Paris experience but since you love it, we make it in several colors for those of you who want to invest in a few pairs. We are one of the only brands that offers a luxurious and comfortable round toe pump so many of you seek out this style. Ivy is elegant and timeless and its well suited to women of all ages.
Ivy has a normal fit. Please see our size conversion chart to help you order.

Our footwear is handmade in a small family atelier in São João da Madeira Portugal.
Regular fit

Round toe pump

insoles made of memory foam

lining in goatskin

The sole is leather and lined with an anti-slip coating to keep you safe when it rains

Looks stunning with all of the interchangeable heels in our collection
We ship worldwide, but if you are ordering from any country (except South Africa and Namibia) in Sub-Saharan Africa, please contact us at service-clients@tanyaheath.com before placing your order, so that we can do a simulation of shipping costs together.
Shipping costs
Please refer to the table below for shipping costs for your destination:
Orders from mainland France are delivered free of charge via Mondial Relais to a relay point near you, unless you choose the Chronopost option.
Region

World Relay

Colissimo

FedEx

Metropolitan France

Free

10€ *

n/a

Rest of the European Union

n/a

12€ *

n/a

United Kingdom excluding the Channel Islands

16€ **

Canada & USA

n/a

n/a

25€ **

Mexico, China, India, Japan, Singapore, South Korea, DOM TOM, Israel

n/a

n/a

60€ **

Russian Federation

n/a

25€ ***

n/a

DOM TOM

n/a

€30 ***

n/a

Australia, New Zealand and French Polynesia

n/a

n/a

€70
* free for orders > €250
** free for orders > €500
*** free for orders > €300
TANYA HEATH Paris will always use Fed EX for deliveries to Canada, USA or UK. For European destinations and the Russian Federation, we often use the postal service. For all other destinations, we will choose between DHL, FEDEX and a comparable carrier specializing in your region.
Shipping times
We prepare and ship orders to you during our main business hours on Monday, Wednesday and Friday. Due to the complexity of our offer and the fact of our numerous quality tests before dispatch, our preparation times are longer than those of traditional shoe brands. During the preparation of an order, we may also contact you in order to validate certain elements and be sure to satisfy you.
The express delivery service is currently complicated, and therefore not offered, but if you have a real emergency, please write to us at service-clients@tanyaheathcom before placing your order to see if it is possible to expedite your order.
We usually process orders within 1-8 business days unless we had an extraordinary situation.
Due to Covid-19 restrictions some areas may experience delays. Contact our customer service team if you have any questions or need assistance.
Shipment Tracking
Once your package is prepared for transport, we will send you a confirmation email containing a shipping tracking number so that you can follow the progress of your package.
.
Exchanges
You ordered the wrong size? No problem. All exchanges on shoes are possible. Simply contact customer services and we will manage the return and exchange process together.
If you would like to return a product, we invite you to get in touch with customer services and we will indicate the return procedure.
You have 30 days from the time you receive your shoes and/or heels to ask for a return or an exchange.
Shipping for returns and exchanges for France are free of charge. Return shipping for all other destinations will be paid for and managed by the customer with the assistance of customer services. Exchanges will be sent with no additional shipping fee.
Returns and Exchanges only apply to products that have never been worn, that have been sent within the authorized time, and that are returned in their original packaging. There will be no return or exchange possible if these conditions are not met, and there will be no exception to this rule.
Refunds
Once we have received your return and verified that the products are un-worn, in perfect condition, and in their original packaging, we will issue a full re-fund for the returned products minus the shipping charges.
Your refund will be credited to the credit card used for the purchase. The time required for the refund depends on the institution that issued the card. Please note that the value date of the re-credit will in any case be the same as the debit date, so you will not suffer any loss in terms of bank interest.
If your order has been shipped to a destination within the European Union, all taxes (VAT) will be refunded. Outside the European Union, customs duties and taxes are not refundable as these are paid to your national/local government.
You may be able to recover custom or duty by contacting your local customs office directly. As this may not be available in all countries, we recommend that you use a customs broker.
Secure payments
Mastercard, Visa, PayPal, AMEX
We accept payment by Visa, Mastercard, JCB, Cup, AMex and Paypal. It is not possible to pay in installments, or with several bank cards.
TANYA HEATH Paris

TANYA HEATH Paris a créé les premières chaussures à talon interchangeable au monde. Chaque nouveau talon transforme vos chaussures et permet de nouveaux usages. Notre innovation vous permet ainsi de consommer moins, tout en portant vos chaussures plus souvent.

Un premier pas vers une consommation durable est de tout simplement porter ce qu'on possède déjà et d'éviter l'accumulation d'achats jetables. Notre concept permet d'atteindre ce but, tout en se faisant plaisir ! Nous proposons des styles intemporels qui passent aussi bien le jour que la nuit et que vous pouvez porter avec fierté pour les années à venir.


Nos produits sont fabriqués à la main, dans une entreprise familiale à São João da Madeira au Portugal.
Info

Nos chaussures et nos talons interchangeables sont vendus séparément afin que vous n'achetiez que ce que vous aimez ! .

Nous proposons tous les styles : escarpins, sandales, chaussures de mariage, bottines, santiags, derbys, et même une collection de chaussures vegane avec des tissus recyclés comprenant notamment une cuissarde vegan ultra tendance.
Entretien

Entretien de la chaussure

L'entretien des chaussures peut être un moment de plaisir et vous rapproche de l'artisan qui les a fabriquées.

Voici quelques conseils pour l'entretien des chaussures.

 

Vous devrez imperméabiliser vos chaussures avant de les porter :

L'application des produits imperméabilisants sur les chaussures en cuir ainsi que vegan protègent les matériaux qui donnent aussi bien la forme de votre chaussure que la protection extérieure de la paire. Les chaussures vegan n'ont pas de protection naturelle, tandis que le cuir en a une, mais elle n'est pas imperméable.

Si vous êtes inquiet à propos du spray, testez le d'abord sur une partie du cuir qui n'est pas visible de l'extérieur. Attendez une heure le temps de sécher, et si vous êtes satisfait du résultat, appliquez le produit sur l'ensemble de la chaussure.

 

Entretien de la peau d'agneau 

La peau d'agneau est très raffinée, souple et vous permet de vous sentir vraiment confortable dans vos chaussures. Cependant, c'est un cuir fragile et il peut s'abîmer s'il n'est pas entretenue.

Le meilleur produit à appliquer sur cette matière est le vernis à chaussure incolore pour éviter les taches. Avant d'appliquer le produit, assurez-vous d'avoir dépoussiérer la paire avec un tissu sec. Pour ne pas laisser de traces sur la paire, frotter délicatement le cuir en mouvement circulaire. Éviter tout type de produit qui pourrait endommager la finition.

Si la paire de chaussures se décolore à l'usure, vous pouvez les traiter avec une crème de cuir de la même couleur que vos chaussures.

 

Entretien des chaussures en nubuck, en daim et vegan

Le nettoyage et l'entretien des chaussures en daim et en nubuck sont pratiquement identiques.

Commencez par brosser toute saleté présente sur les chaussures, puis, poncez avec une brosse en daim, doucement les zones brillantes usées sur la surface de la chaussure. Cela aidera à restaurer le grain du daim. Si vous avez des taches tenaces, vous pouvez poncer plus fort mais cela risque d'abimer une partie du grain de cuir. Vous devez toujours vous assurer de brosser dans la direction du grain et vous pouvez terminer avec une brosse à chaussures souple.

À savoir : Tout ne peut pas être réparé ou vernis correctement.

Il est extrêmement difficile d'enlever des taches de sang, d'huile, de bière et de peinture sur des chaussures en daim et nubuck. Si une tache est imprégnée dans le cuir, il y a des chances que vous ne puissiez pas sauver vos chaussures. Ainsi, assurez-vous de protéger votre paire préférée en utilisant, tous les trois mois (particulièrement durant les temps de pluie), un spray protecteur de daim et nubuck.

 

Entretien des chaussures en cuir de veau

Assurez-vous que vos chaussures soient correctement nettoyées avec une brosse ou un tissu sec avant d'appliquer n'importe quel produit d'entretien. Tous les cuirs sèchent avec le temps : il est donc bon de prendre soin d'eux de temps en temps.

Nous conseillons généralement une crème nourrissante de la même couleur que vos chaussures, car ils ont une teneur élevée en pigment et pénètrent bien le cuir.

La crème va couvrir les entailles et les éraflures, et redonnera une apparence neuve à vos vieilles chaussures. Appliquez-en très peu avec un pinceau applicateur ou un chiffon doux et assurez-vous de répartir le produit uniformément sur toute la chaussure. Laissez la chaussure reposer pendant au moins 20 minutes avant de polir avec une brosse douce ou un chiffon doux.

Si toutefois vous voulez que vos chaussures soient plus rigides, nous vous recommandons d'utiliser de la cire coloré ou incolore.

Attention ! Si un produit est appliqué en excès ou sur du cuir très sec, vous pouvez modifier définitivement la couleur d'origine. La modération est la clé !

 

Conservation des chaussures en cuir et vegan 

Aussi important que le nettoyage de vos chaussures, est le rangement de vos chaussures car la durabilité de vos paires dépend en partie de la façon dont vous les rangez. Le temps et la poussière peuvent ruiner leur beauté naturelle.

En général, il est recommandé de ne pas ranger les chaussures dans des sacs en polyéthylène ou de les exposer en plein soleil. Il est plutôt conseillé de les conserver dans un endroit frais et sec, jamais dans un endroit chaud et humide.

Entretien des talons

Si vous avez un talon éraflé ou si vous voulez simplement un changement, nous avons deux vidéos sur notre chaîne YouTube qui expliquent comment renouveler vos talons avec une enveloppe en cuir ou des paillettes.
Demandez

Laissez-nous un message !

Nous adorons recevoir vos suggestions et retours divers sur votre expérience du service clients et sur nos services de façon générale. Donc n'hésitez pas à nous faire part de vos commentaires en remplissant le formulaire ci-dessous.

Ou envoyez nous un mail directement à service-clients@tanyaheath.com
View full details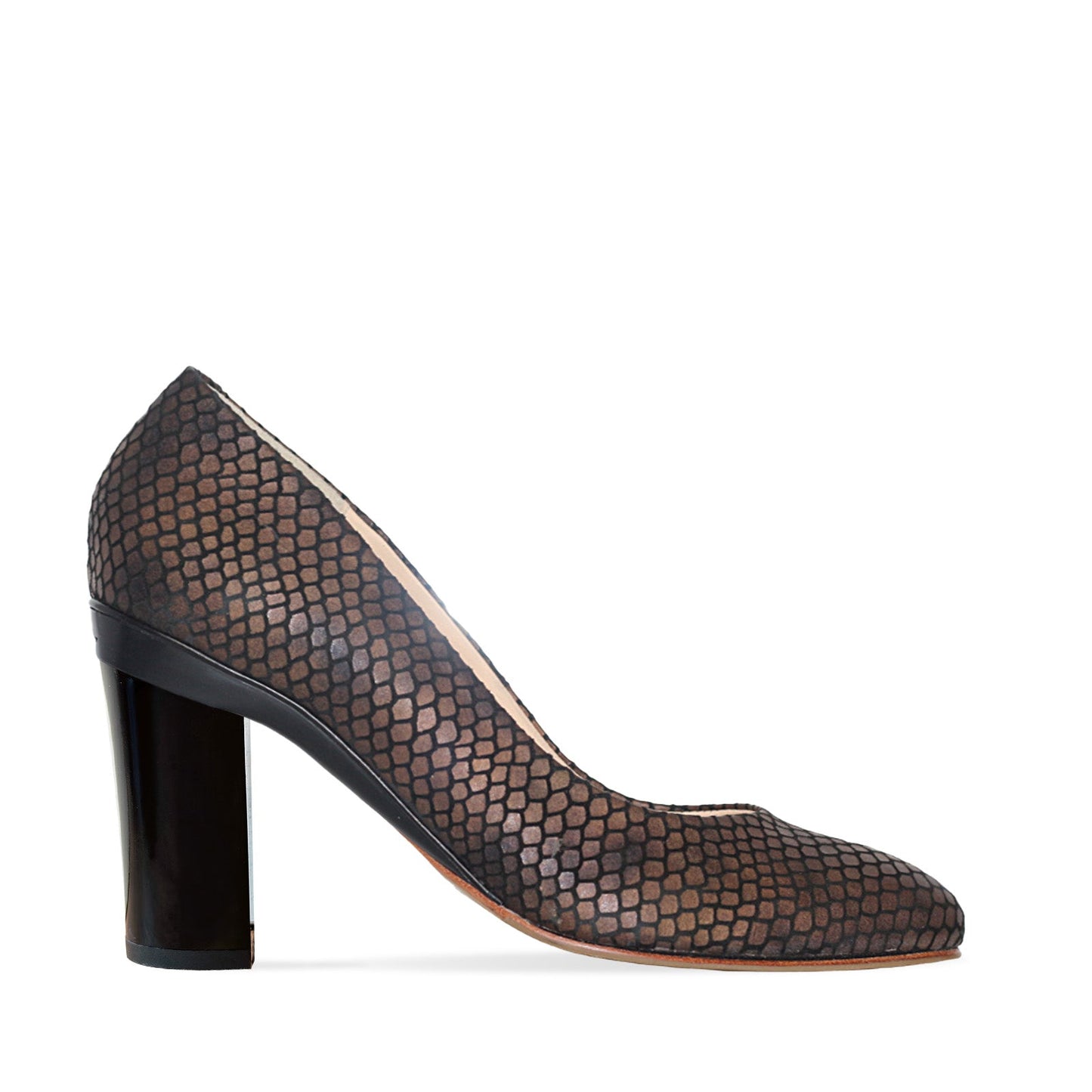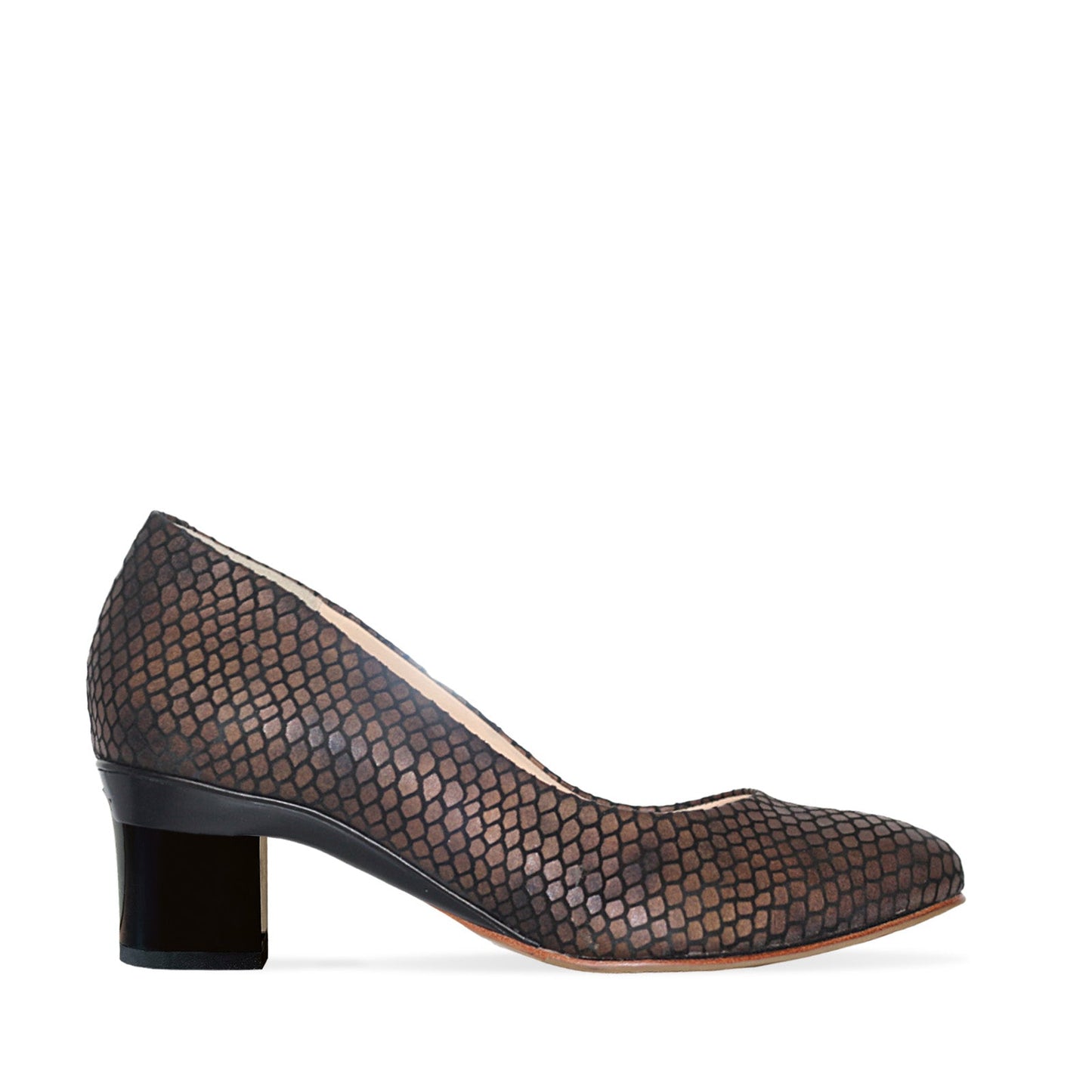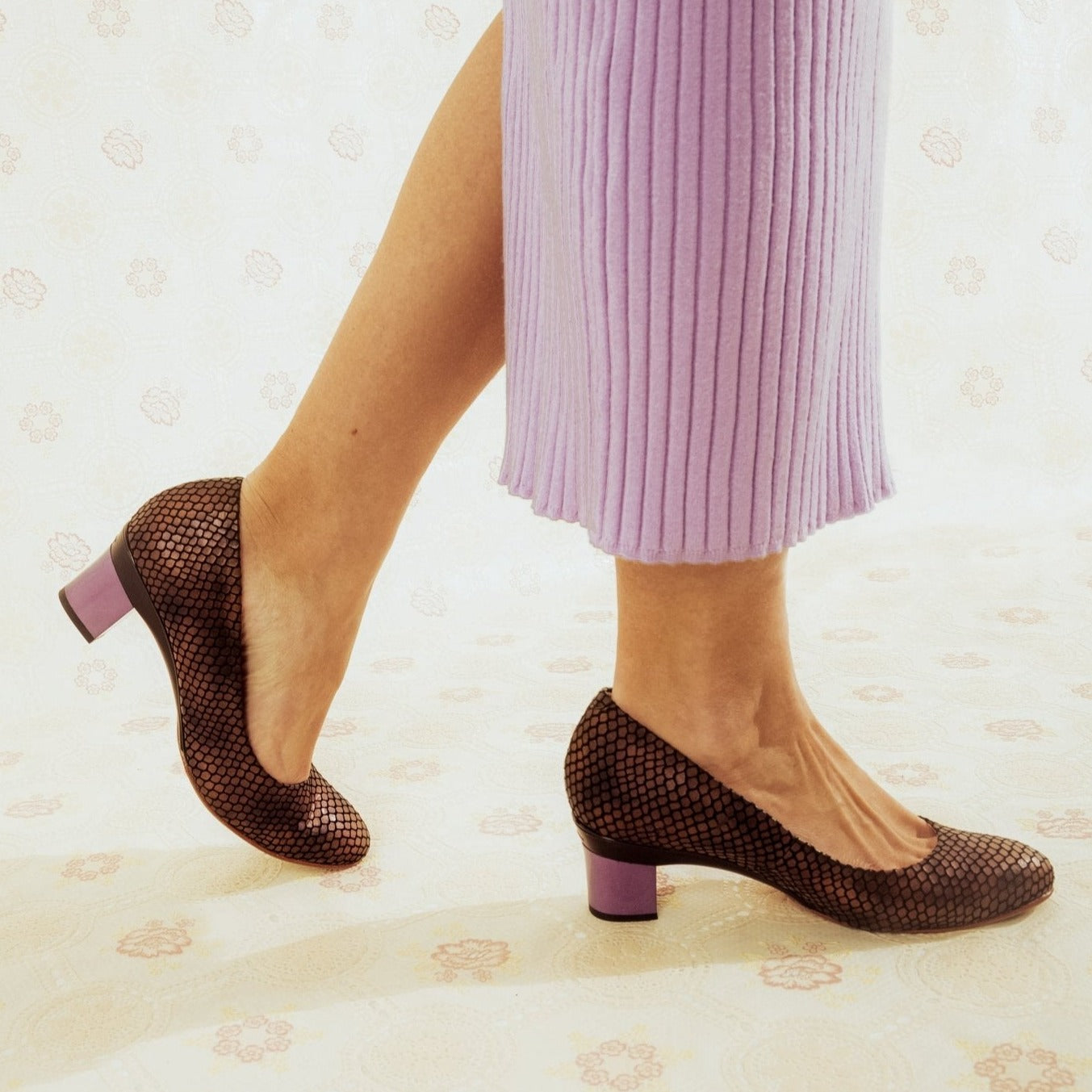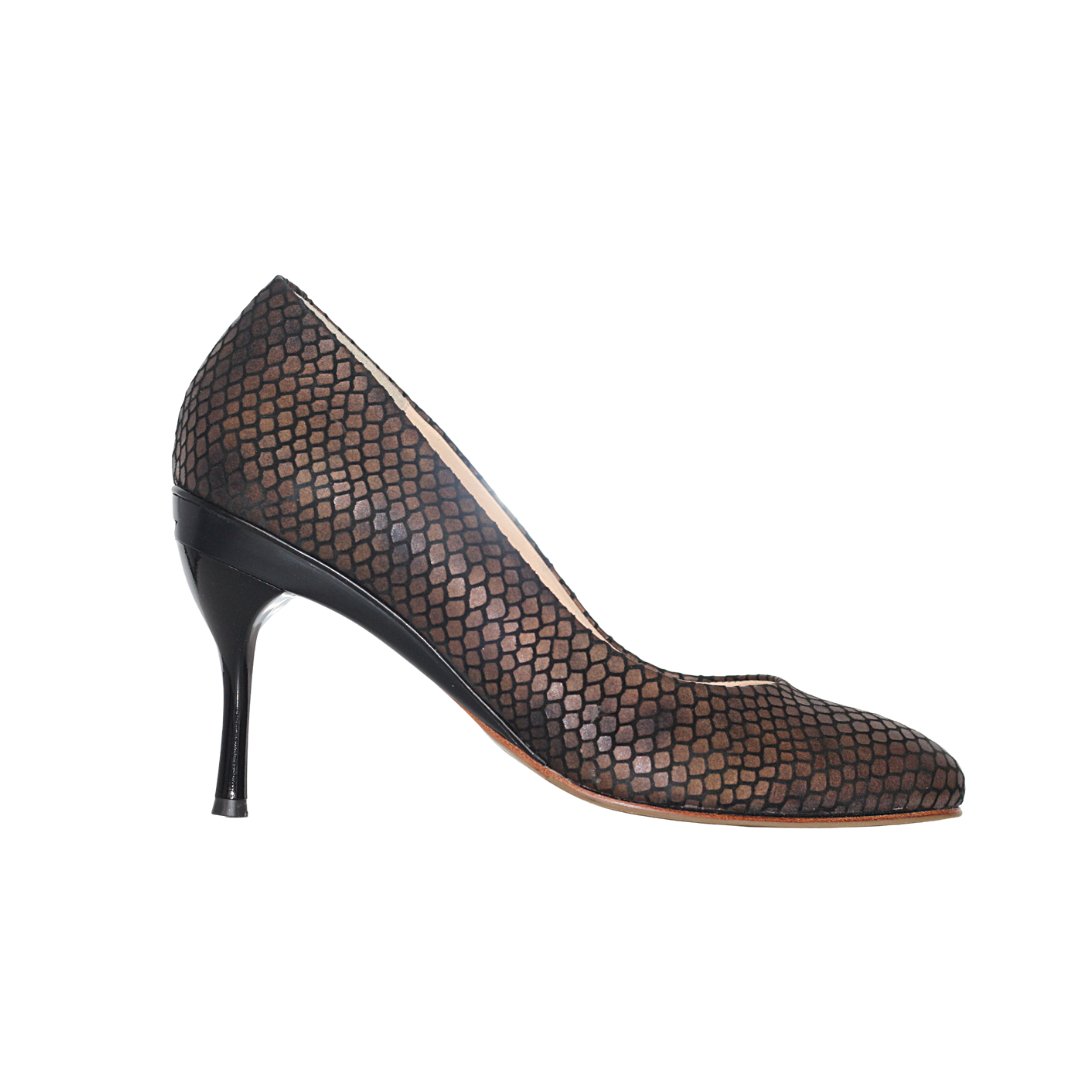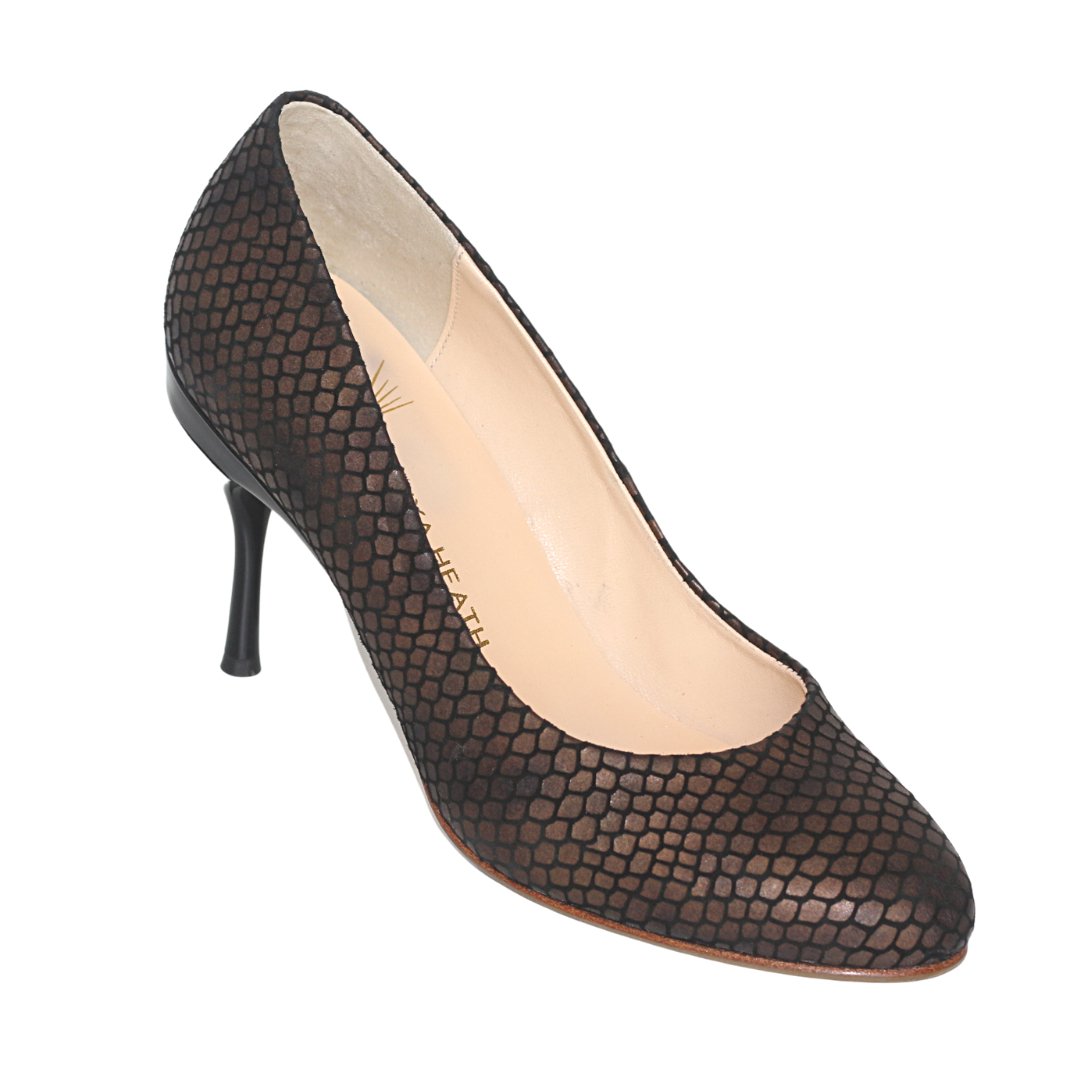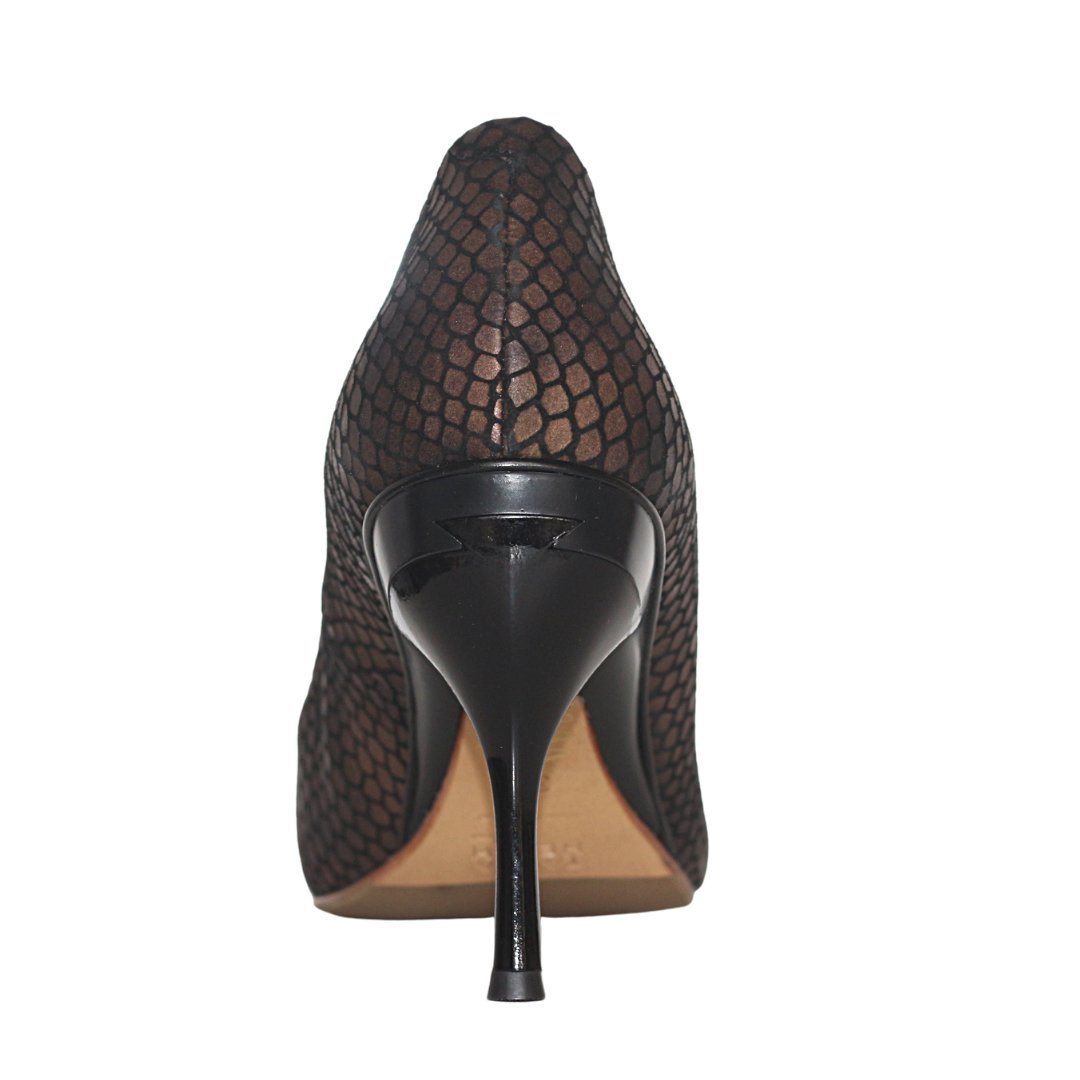 How it works
Step 1: choose your adjustable shoes

Our interchangeable shoes and heels are sold separately so you only buy what you like!

We offer all styles: pumps, sandals, wedding shoes, ankle boots, cowboy boots, derbies, and even a collection of vegan shoes with recycled fabrics including an ultra-trendy vegan thigh-high boot.

Etape 2: choisissez vos talons amovibles

Une fois que vous avez choisi vos chaussures, vous êtes prête à sélectionner vos talons amovibles. Il est préférable de commencer avec deux ou trois paires de talons afin de pouvoir porter vos chaussures partout et de profiter pleinement du concept de talons interchangeables.
C'est simple de choisir les bons talons interchangeables
Choisissez la bonne taille, T1, T2 ou T3

Les talons sont disponibles en 3 gammes de tailles qui correspondent à votre pointure de chaussure :

T1 correspond aux pointures du 35 au 36.5.

T2 correspond aux pointures du 37 au 39.5

T3 correspond aux pointures du 40 au 42

Plus de 400 talons différents, à vous de choisir

Vous pouvez choisir parmi 7 styles de talons différents, disponibles en finitions peintes, métallisées, enrobage cuir et matières véganes. Les possibilités sont infinies, et nous sommes sûrs que vous trouverez votre bonheur.

Chacun de nos talons est fini à la main soit en France, soit au Portugal et les talons sont conçus pour durer des années.